SUMMER 2022: SIBS Analytics, in partnership with Turismo de Portugal (the National Tourism Authority), publishes the infographic "Holidays in Portugal 2022", in which a portrait is given regarding the operations carried out this Summer (between 1 July and 31 August), during which there was a 22% increase in total consumption and a record consumption with foreign cards in Portugal, translated in an increase of 37% compared to 2019 and 71% compared to the same period in 2021.
If one evaluates only the value of Portuguese card, the growth was 19% compared to 2019. In what regards only the value of purchases made in sectors traditionally associated with tourism – accommodation, catering, transport and leisure –, there was an increase of 49% compared to the pre-pandemic period and 54% compared to last year.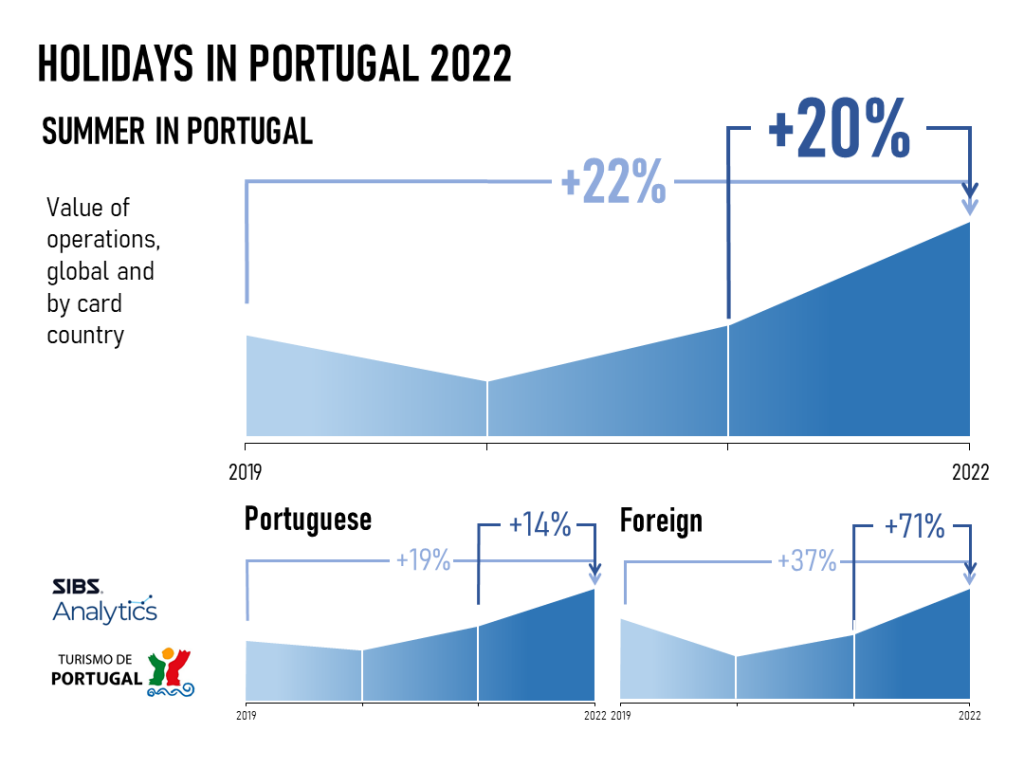 During the period under analysis in the infographic, MB WAY reached 4,3 million of unique users, and registered a significant growth in the number of purchase operations of more than 80% compared to the same period in 2021, and 7,3x vs pre-pandemic period.

More purchases by foreigners in Portugal
Among the nationalities that most traveled to Portugal, French cards continue to lead,representing 27% of all transactions with foreign cards. Next in the list are the British cards, with 12%, and, in third, the Spanish, with 10%. The North American, German and Dutch cards also appear among the main countries, in that order respectively. However, among the nationalities that grew the most in the value of operations, the North American cards stand out in the first place, with an increase of 3,2x, followed by those of the United Kingdom and Germany, with a growth of 2,2x.
In regards the national cards abroad, data from SIBS Analytics allow us to conclude that the weight of consumption across borders was higher in Spain (38%), followed by France (18%), Italy (7%), Belgium and Germany (both with 4%) and United Kingdom (3%), destination that saw the biggest increase in Portuguese consumption in the period compared to 2021.
Holidays in the country
Analysing the weight of the number of cards by regions in Portugal, the districts of Beja, Evora, Portalegre, Santarem, Castelo Branco and Guarda stand out as the ones with the highest incidence of cards on vacation within the national territory.
For more details on the Consumer Indicators, see infographics attached.